Moderator: The Moderating Team
Those of you who are thinking '80s, forget it. Let's try 1978 Kilts and here's the photographic documentation: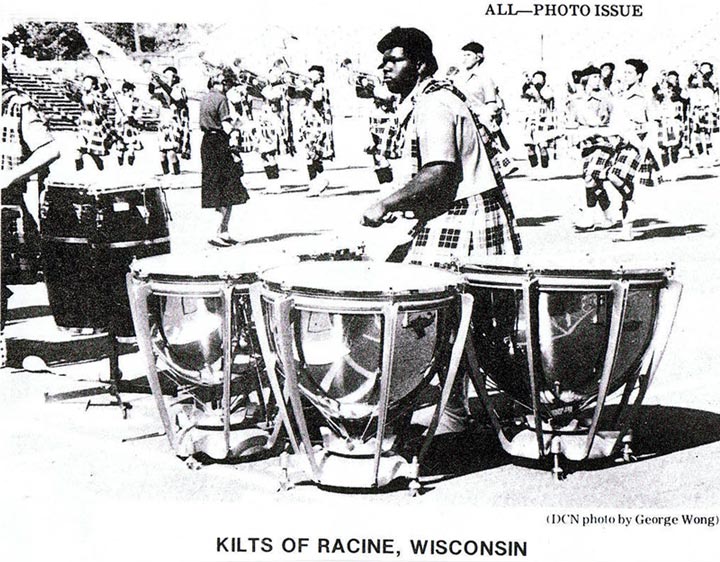 ---
All Star

Posts: 2281
Joined: Fri May 31, 2002 5:47 am
The tymp player is Micheal Cobb. I always thought he looked like a person you wouldn't want to battle - built like a linebacker, and with a facial expression that said, "Don't mess!" Actually, he was one of the nicest guys I met in that corps.
Jim Anello
---
Hey, isn't that Sandy Opie judging the horn line???
---
New Recruit

Posts: 9
Joined: Thu Jun 01, 2006 7:38 pm
Location: North Shore of Massachusetts
In 1978 Boston had a pit for the entire show. The kilties only had it for 1/2 of the show as I recall.
---
All Star

Posts: 3000
Joined: Wed Jul 10, 2002 8:47 pm
Location: Illinois
As I recall, it was not uncommon by the mid to late 1970s for a corps to park
parts of their percussion section on the front line for the concert feature,
when the corps did no or little drill. The guard would work flags and rifles in
place. Three or four marching tymp players would park the drums and one
guy would play 'em. Marching keyboards might do the same. But when the
concert feature ended, they hoisted back up and away they went. This was
the genesis of the pit. When it became formally marked on the field and
recognized in the rules, and in the space of a couple of years, everybody
went to a pit for the whole show instead of marching tympani and keyboards
(the pit was still very small by today's standards), it was as controversial
among the old pharts then as amplified vocals are now.
"These are the roots of rhythm and the roots of rhythm remain"-- Paul Simon
---
I'm gonna have to get out my '82 Legacy DVD to see who's got the last marching keyboard line........I'll bet I was in one of 'em!
---
---